Thinking About Moving? Don't Forget to Think About the Packing Boxes!

You may not spend most of your time thinking about Cardboard Boxes, Moving Kits and Protective Wrap. In fact, you probably very rarely think of Packing Materials at all. We at Removal Boxes, on the other hand, think about those things all the time. That's right, constantly. That's because it's our business to think about them all the time. And by thinking about them all the time, we've come up with some of the best ways in the business to get your items from your old home to your new home… or your old office to your new office… or into storage… or anywhere you might need them.
You may not know Moving Boxes come in various shapes, sizes, weights and strengths. Did you know that? We know all about them, and we can help you decide the right number of boxes for your items, as well as the types and strengths that you will require. An assessment by one of our trusted team members is all that you will need to ensure the secure, safe and proper number of supplies for household items, clothing, books, small electronics, valuables, breakables, and anything else you need to transport.
But not everything can be put into your Removal Boxes. Did you know that some items – including household cleaning products and other hazardous materials – shouldn't be transported? Sometimes, depending on where you are moving to, it is even against the law to do so. Packing Boxes have specifications that should be adhered to, and not just because it could save you money. Of course, having a box tear in the middle of your move is a hassle and a waste of money. But the specifications of Individual Boxes – how much weight they can bear, for example – are there for a reason. Overloading your Packing Boxes could lead to strained backs and damaged possessions. Removal Boxes can help, however, since we spend all that time thinking about Cardboard Boxes. We have specially designed Box Packs that will allow you to designate certain boxes for certain items, and it is clear what you are getting and what you should and should not place in your Moving Boxes and Storage Boxes. There are special Cardboard Boxes for books, which you wouldn't want to use for clothing, for example.
Another topic we think about all the time is Packing Accessories. There's tape, markers, Protective Wrap, labels, bubble wrap, foam pads and much more. They may seem unnecessary when you are shopping around for Storage Boxes and Packing Materials, but we assure you, they are some of the most important items for your move. Think about this: you arrive in your new home, and it's suppertime – you have a take-out, but when you sit down to eat, you realize there are no forks. Now, if your boxes were properly labeled, the movers will have placed all the Packing Boxes marked for the kitchen, in the kitchen and you'll easily be able to locate the small one containing cutlery. After you eat, you'll also be able to unpack a coffee mug and the coffee maker so you can get going the next morning. If your Moving Boxes are poorly packed, labeled and therefore haphazardly unloaded, you'll have to think pretty hard about where those forks and coffee cup might be, if they are even in the kitchen at all. Moreover, if you haven't thought enough about Protective Wrap and Packing Materials, that coffee mug could be chipped or broken when you do finally locate it.
Hassle is one of the things we try to avoid at Removal Boxes. We don't like it, and we know that our customers don't like it either. That's why Box Packs and Moving Kits are so popular – we've done the thinking for you, so all you have to do is follow our lead and your packing job will involve much less hassle than it otherwise would. What if it's the night before your move and you've used all your Cardboard Boxes, but you still have some belongings that need to be packed up? Don't just throw them in the back of the car! That could lead to your belongings getting damaged, broken, or even stolen. It's much safer to transport your things in an insured moving vehicle, in Storage Boxes than to leave them unpacked for everyone to see.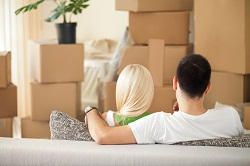 So why not call Removal Boxes for some advice on the type of boxes you'll need? We can help you determine what's best for your move, based on years of experience handling large and small packing jobs. Depending on the number of rooms in your current home (or office) and the number of rooms in your new place, we can help you think about how many wardrobe boxes, how many book boxes, even how much tape and Protective Wrap your move will require. It's worth taking the time to think about the Moving Boxes ahead of time because there's no such thing as a last-minute run to the Cardboard Boxes store, right? Where will you find Packing Materials late at night on a Friday before the moving van is scheduled to show up the next day? Thinking ahead can mitigate some pretty hairy situations that no one wants to get into when you've got a removal scheduled. But don't think too much about Storage Boxes, Moving Kits, or Box Packs – we've already done that for you.
Like we said, all the thinking we do about Packing Materials, Moving Kits and Cardboard Boxes is not for nothing. We know all the things that can go wrong in a move because we've seen many of them, but also because we've thought about everything that needs to happen for a removal to go smoothly. It's pretty much all we think about, because it's our business to think about all things related to Packing Boxes and Packing Accessories. Have you thought about where you'll get your boxes? Think no more, Removal Boxes has thought of everything!