Cardboard Boxes – the Low-Down on Your Packaging Solution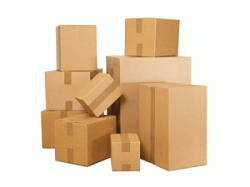 When it comes to cardboard boxes, there is much more than meets the eye. The choices, depending on what you need them for, are almost endless. Whether you are considering self storage, moving house, despatch of goods to your customers or the transport of valuables, you need a packaging good quality cardboard boxes solution that is fit for purpose. This guide will help you find the right cartons for your particular need.

But let's start at the beginning, with the origins of this now staple packaging. Corrugated or pleated paper was used for lining hats in 1850s England, before it was envisaged as a packing solution to take over from wooden crates. The first commercial paperboard box was invented by the Scotsman Robert Gair in Brooklyn during the 1870s, in the heart of the industrial revolution. The invention was a bit of a luck accident; Gair was a printer and maker of paper bags in New York. One day, a metal ruler used for creasing accidentally cut a bag. Mr. Gair quickly realised that if you could cut and crease in one manufacturing process, you could produce prefabricated boxes from paperboard. He took this idea to box board, and so strong boxes were suddenly available. As early as 1908, corrugated paper-board and the words 'corrugated cardboard' were well known in the paper and packaging industries. Now, there was a light weight but strong alternative to heavy wooden crates, and we haven't looked back. Robert Gair was a canny Scot, and stayed at the top of this newly burgeoning industry. When he died at the ripe old age of 88 years, he was a multi-millionaire with many patents under his belt. He'd developed printing straight onto boxes as well as perfecting their design. Now, more than 95% of all products shipped in North America are done so inside corrugated boxes. Over half of all paper products that are recycled are cardboard.

So why are they so strong and effective? It's all down to manufacture and material. The wavy, fluted appearance between the boards – the corrugated medium – holds air spaces. These provide the cushioning, the shock absorbency, that protects your valuables. They are lined with Cardboard Boxes UK paperboard. Those ridges inside, looking like waves are the key however and a single layer gives flexibility. So the cardboard can be wrapped around delicate items, such as glass. For really heavy or fragile items, you can choose boxes that are reinforced with not just one layer, but two or three 'walls' of corrugated medium, one lying inside of the other and glued together and to the paperboard. These rigid, non-bending surfaces form the heavy duty cartons that provide the very strongest packaging solution and are least likely to break.

If you need cardboard boxes today for house removals, you're going to need something strong, sturdy and pretty much unbreakable. After all, the most important concern is that your prized possessions are kept unbroken, safe in transit and clean.

But there are still several cardboard box solutions, depending on what you pack. Book boxes tend to be short, so that they don't become too heavy. Remember: lifting more than about 22kg can seriously hurt your back. Book boxes typically measure no more than 50 x 40 x 30 centimetres, so that you don't overpack. Book boxes are the best solution for heavy, compact and non-breakable items such as CDs, DVDs, handtools, photo albums, files and … naturally … books.

Then there are much larger boxes designed for linens and lighter materials. These are sometimes called 'tea chest' boxes, measuring twice as high as the book version at sixty centimetres tall. These are great for packing duvets, pillows, cushions, blankets and soft toys – or a mixture of heavier items at the bottom and lighter items towards the top. This is a really important packing tip for your cardboard boxes: to keep heavy things at the bottom. It's much easier on your back, too.

You can now get wardrobe boxes: taller, thin cardboard (as the weight inside is less) with a hanging rail. This means you can take your clothes straight from the wardrobe, on their hangers, and put them into a box equivalent where they still hang – avoiding creasing and saving you time when unpacking at the other end.

Don't forget, you need to pad out the contents with some form of protection: bubble wrap being probably the best. You may also want to consider polystyrene chips to fill in the gaps left behind: gaps mean that your belongings can move about, colliding with each other and the sides of the box. Nothing should rattle or shift when you pick up the box. Again, that's important for your back.

You can now buy boxes to almost every specification and design. There are suitable containers for clubs, poles and skis; even ultra-strong boxes designed to sit on pallets and be carried by forklifts. Boxes come from 3" squared for delivery of tiny items to simply enormous. There are of course bespoke cardboard cartons to safely pack your mirrors and paintings in.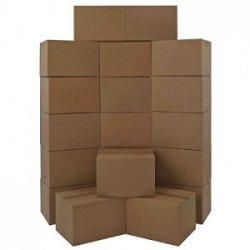 Innovative companies are now producing envelope-type boxes that combine the strength of corrugated cardboard with postage efficiencies: thin enough to be sent as large letters but with the strength you have come to expect from cardboard boxes. This is ideal when sending thin valuable items through the mail or by courier.

A specialist packaging supplier or a removals company can both advise on and provide a whole variety of cardboard containers to suit your packing needs. A variety is best, of the standard sizes – both the tea chest size and book boxes. A good company will help you estimate just how many you are going to need.

You can also be more environmentally friendly by not only using boxes made from recycled materials but also considering a recycling scheme once you have finished with your boxes, particularly after a house move. Several companies will buy, reuse and in some cases re-manufacture good quality cardboard boxes so you can do your bit for the planet after you've finished with your packaging. And it's all thanks to the clever Scotsman, Robert Gair.